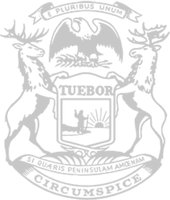 House lawmakers pursue protections for licensed professionals, job providers
Plan safeguards license suspensions, revocations
A group of Republican lawmakers this week introduced a plan protecting Michigan residents and job providers from excessive penalties for non-compliance with rules implemented unilaterally by the governor.
 The plan, introduced by Reps. Luke Meerman of Coopersville, Jack O'Malley of Lake Ann, Bradley Slagh of Zeeland, and Brad Paquette of Niles, would safeguard licensed professionals and job providers from having their licenses suspended or revoked for being found in violation of executive orders issued by the governor and related to COVID-19.
"No licensed professional or business should have to worry about the possibility of license suspension or revocation for falling short of abiding by every rule and regulation outlined in what now is quickly approaching 170 executive orders issued by the governor," Meerman said. "This is about protecting Michiganders from political retribution and upholding their right to work and provide for their families."
 "Here in Michigan, we have been under the governor's unilateral rule for more than five months now," O'Malley said. "The governor has wielded her extremely vague executive orders against hard-working Michiganders and small businesses who are only trying to make ends meet. Heck, it's already hard enough for lawmakers and legislative staff to interpret every rule and regulation from this administration. With this plan, we're taking a stand to ensure no licensed professional or establishment in Michigan has to fear a license suspension or revocation for simply not following a questionable executive order. Michiganders deserve that peace of mind."
"Taking punitive action against our licensed health care providers for not adhering to unilateral and confusing executive orders is not acceptable," Slagh said. "I am happy to partner with my colleagues to ensure our state's professionals, including those providing vital health services to the people of Michigan, can do so without fear of excessive repercussions for simply doing the jobs they are trained and licensed to do."
"Small businesses are the backbone to our communities and vital to our local economies," Paquette said. "The COVID-19 pandemic has already been taxing enough for everyone. The last thing Michigan families or businesses need to worry about is the governor weaponizing her departments to come after their licenses and take away their right to make a living. Suspending or revoking licenses jeopardizes the ability for local communities to thrive. We can't let that happen and we won't let that happen. It's in these difficult times we need to support every Michigan worker and business."
House Bills 6108-6111 have been referred to the House Regulatory Reform Committee for consideration.
© 2009 - 2023 Michigan House Republicans. All Rights Reserved.
This site is protected by reCAPTCHA and the Google Privacy Policy and Terms of Service apply.